By Bree Duwyn
Inkdigenous Tattoo studio offers a safe place for Indigenous and non-Indigenous people alike to share their passion for art.
Métis activist and tattoo artist, Toby Sicks, created the Toronto-based studio in 2017 with the aim to promote Indigenous artists while raising awareness and breaking down the stigmas that surround their communities.
"We have a beautiful place where people can come in, get together and share stories," said Sicks.
Sicks felt like he never got the opportunity to fully express himself while working for other people or while completing apprenticeships. This kick-started his motivation to pursue a different path.
The path led Sicks to attending George Brown College where he enrolled in a community worker program in order to gain experience working with the community, as well as learn more about his culture and traditions, including anti-oppressive practices.
After getting in touch with his roots and involving himself with community events to fight against the inequality of Indigenous people, Sicks took up tattooing professionally.
In addition, he participates in charity events to raise awareness for Indigenous issues such as fundraising events to raise awareness of youth suicide prevention in Indigenous communities, as well as missing and murdered Indigenous women and The Pipeline Project.
Sicks explained there is a lack of Indigenous tattoo studios and that by opening up his own, he could promote culture as he was influenced by his community work and the time he spent dabbling in tattoos.
"It's not just for myself per se, it's also for other Indigenous artists," said Sicks. "I'm looking for different mediums, different designs that I'm able to put in my studio. So, I could be looking for designs from different nations across Canada, not just a specific style or person."
Sicks exhibits a variety of Indigenous art styles inside his studio to promote diversity of culture. He displays art pieces such as paintings, handmade jewelry, custom-made merchandise and even plays Indigenous music in the studio to encourage others to appreciate different forms of Indigenous culture and art.
(CanCulture/Bree Duwyn)
Sicks also explained the importance of giving homage to art or artists that inspire him to create tattoos and through this, gaining the appreciation for the artwork and acknowledging its origin.
"This is a way of crossing out the cultural appropriation factor, to show the appreciation for the different arts out there," said Sicks.
There is also a chance to be educated on the origin of the tattoo, in order to put more value into the significance of tattoos as art.
"It's a little more than just getting an Indigenous art piece on you … you're also getting an education behind it, stories and meaning," said Sicks. "It is very important not to lose concept of who you are as a person, the loss of identity is like forgetting who you are. You lose place in society. Once you do know your traditions, culture and place in society it's easier for you to build within your community and help the members within the community."
Sicks believes in discovering yourself and your culture to find yourself in a positive manner within society.
A Unique Experience
While in Inkdigenous Tattoo, I found myself admiring the room with its compelling art pieces and welcoming atmosphere, making it easy to start a conversation. You can find an abundance of snacks and a comfortable waiting area within the studio which gives off a homey vibe.
Sicks enthusiasm about tattooing is contagious as he feels passion and pride in his work while exuding confidence. Sicks was also very humorous and charismatic in nature, which is excellent for making his clients feel at ease.
When a client came into the studio I found myself having the opportunity to watch Sicks, for an entire afternoon, do a cover up tattoo.
Not having seen a tattoo been done before, I took up the offer in order to benefit from the learning experience and see Sicks' art come to life.
After deciding on a design of a three-eyed raven, inspired by Game of Thrones, Sicks drew up the piece and began the transformation.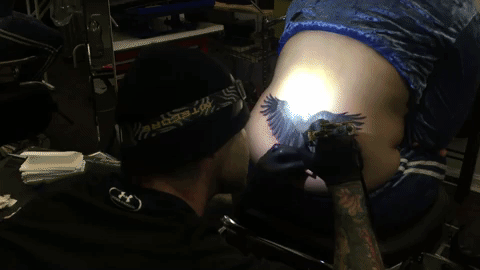 (CanCulture/Bree Duwyn)
I was also able to aid in small things such as folding paper towels or helping him to use a numbing spray on the tattoo. Getting a chance to be involved and watch the process of the creation of art was a great learning experience and I felt very welcomed. I quickly came to understand Sicks' meaning of a safe place for community to come together and share stories.
After the day was done, I felt a genuine appreciation for the patience, skill and positivity that tattooing requires.
Inkdigenous Tattoo studio is located at 124 Jarvis Street in Toronto and is open 7 days a week.